Merry Christmas and Happy New Year for Authors from Abroad
1. To meet the requirement from the author abroad, we decide to prolong the due date of abstract from Dec.15,2009 to January 30,2010 only for authors outside the mainland China. 
2. The two ways to submitting to AOMATT2010 are:
(1) Visit the website of
www.ioe.ac.cn
, then open the mark of AOMATT to find the online submitting system toAOMATT
(2) Link to
http://159.226.167.88/aomatt2010/english/
directly to the conference page for AOMATT.
3. There is 115 days from the New Year Day to the Opening Ceremony on April 26,2010 at the venue of Dalian World Expo Center-the famous place of World Economy Forum-DAVOS 2009.
4. We are looking forward to meet you in Dalian in the Symposium of AOMATT2010 on April 26-29,2010.
5. More information please link to the website of AOMATT:
http://159.226.167.88/aomatt2010/english/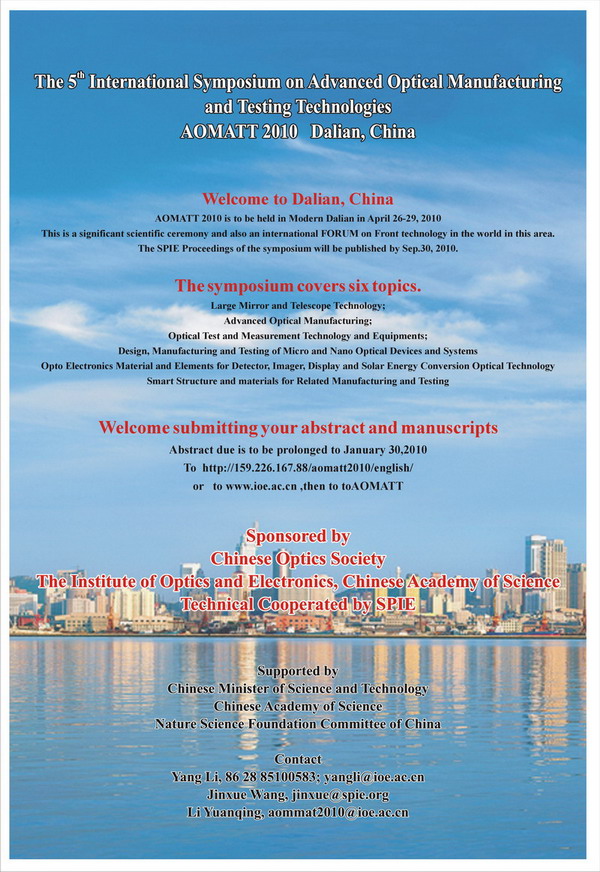 Organization Committee of AOMATT2010
                                                                                                                                                                                     Dec.22,2009