OMSEI 2011 Development Forum and Academic Conference Held in Chengdu
Advanced Optical Manufacturing and Emerging Strategic Industries (OMSEI 2011) Development Forum and Academic Conference was held in Chengdu from August 15 to 18, 2011.
The Forum was sponsored by the Institute of Optics and Electronics, Chinese Academy of Sciences (IOE, CAS) and the Chinese Optical Society (COS). More than 200 participants (including 30-plus experts) gathered in Chengdu to discuss optical manufacturing and development. Advanced manufacturing science is a main line of this conference, and the discipline-intercross of strategy emerging industries also was involved such as new energy, new information, new material and new manufacturing methods. This conference has attracted catholic attention of strategic emerging industries community and became a platform to exchange in depth, expand cooperation and promote development.
The academician ZHOU Liwei made an important speech in the opening ceremony. First, he proposed to deep mourn for academician WANG Daheng. Then he expressed high evaluation and expectations for the new generation researchers. On behalf of the sponsors, the academician JIANG Hanwen, deputy director WEI Zhongquan and FAN Tianquan from IOE, CAS gave a warm welcome to the experts and other participants. After opening ceremony, more than 30 experts and outstanding enterprise delegates in optical processing and manufacturing fields made presentations related to frontier topics, hot spots and each link of industry-university-institute chains. They also showed the latest achievements in the top four optical manufacturing areas and made prospective prediction for development direction of related fields.
About 100 authors contributed their papers and the committee recommended all excellent papers to EI indexed journal or Chinese core journal.

(Photo by FU Qiang)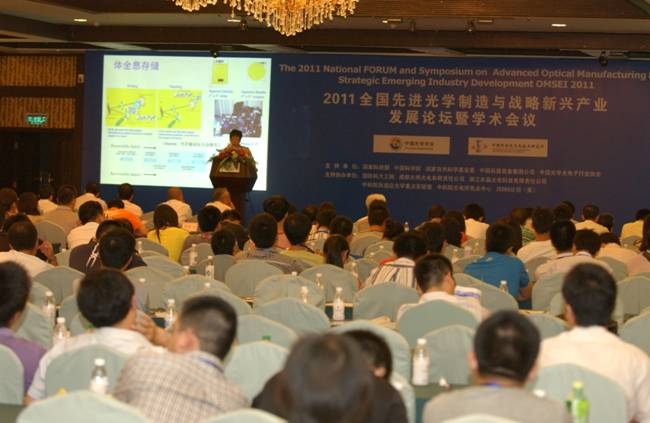 (Photo by FU Qiang)