Astrophysicists Unveil Most Detailed Maps of Dark Matter to Date
A team of astrophysicists led by Yale Professor Priyamvada Natarajan has unveiled the most detailed maps to date of dark matter, offering a detailed case for the existence of cold dark matter — sluggish particles that comprise the bulk of matter in the Universe.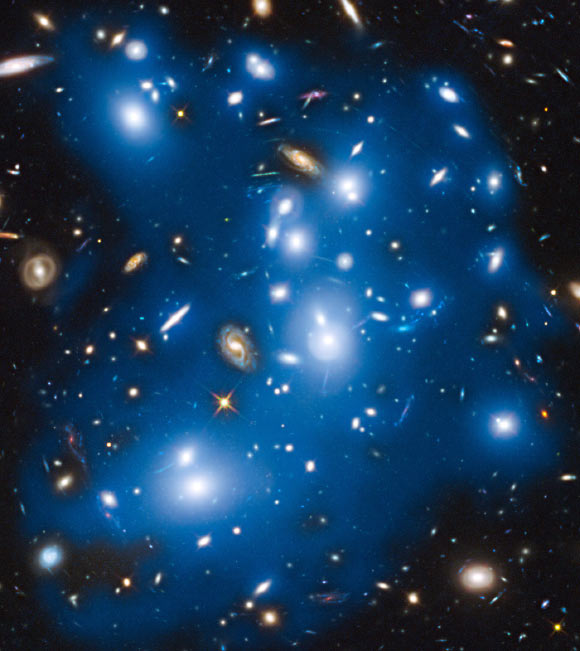 The galaxy cluster Abell 2744 takes on a ghostly look where total starlight has been artificially colored blue in this Hubble view. Image credit: NASA / ESA / IAC / HFF Team / STScI.
Astrophysicists suspect that dark matter is made of unseen particles that neither reflect nor absorb light, but are able to exert gravity.
Experiments around the world are attempting to detect and study dark matter particles; the leading candidates include WIMPs (weakly interacting massive particles) and axions.
"While we now have a precise cosmic inventory for the amount of dark matter and how it is distributed in the Universe, the particle itself remains elusive," Prof. Natarajan said.
Dark matter particles are thought to provide the unseen mass that is responsible for a phenomenon called gravitational lensing, by bending light from distant galaxies.
This light bending produces systematic distortions in the shapes of galaxies viewed through the gravitational lens.
Prof. Natarajan and co-authors decoded such distortions to create new dark matter maps, which are based on Hubble Space Telescope Frontier Fields data of a trio of galaxy clusters.
"We have mapped the lensing-inferred substructure in the first three clusters observed by the Hubble Space Telescope Frontier Fields Initiative (HSTFF): Abell 2744, MACS J0416.1–2403, and MACS J1149.5+2223," they explained.
This is a 3D visualization of reconstructed dark matter clump distributions in the galaxy cluster Abell 2744. The unseen matter in this map is comprised of a smooth heap of dark matter on which clumps form. Image credit: Priyamvada Natarajan et al, doi: 10.1093/mnras/stw3385.
This is a 3D visualization of reconstructed dark matter clump distributions in the galaxy cluster Abell 2744. The unseen matter in this map is comprised of a smooth heap of dark matter on which clumps form. Image credit: Priyamvada Natarajan et al, doi: 10.1093/mnras/stw3385.
"With the data of these three lensing clusters we have successfully mapped the granularity of dark matter within the clusters in exquisite detail. We have mapped all of the clumps of dark matter that the data permit us to detect, and have produced the most detailed topological maps of the dark matter landscape to date," Prof. Natarajan said.
Significantly, the new maps closely match computer simulations of dark matter theoretically predicted by the cold dark matter model: cold dark matter moves slowly compared to the speed of light, while hot dark matter moves faster.
"This agreement with the standard model is notable given that all of the evidence for dark matter thus far is indirect," the researchers said.
A study detailing the findings appeared Feb. 6, 2017 in the journal Monthly Notices of the Royal Astronomical Society (arXiv.org preprint).
(From:http://www.sci-news.com/astronomy/dark-matter-maps-04663.html)